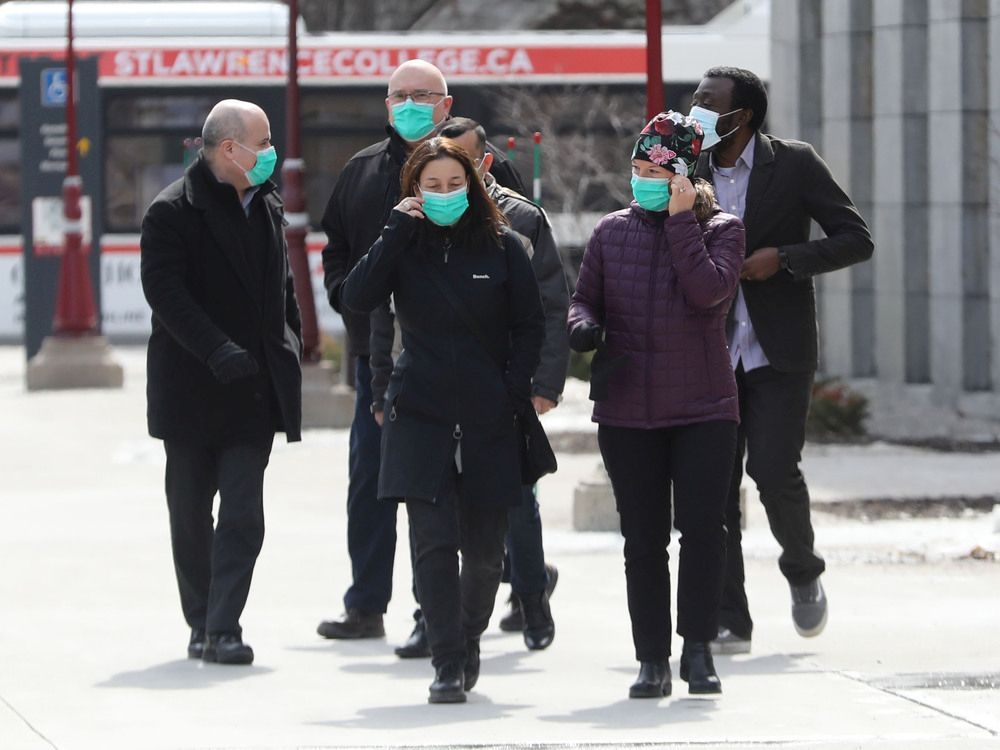 uOttawa, Carleton join others in ending mask and vaccine mandates on May 1
The decisions are consistent with Ontario's decision to end pandemic restrictions as part of what the Chief Medical Officer of Health calls a decision to "learn to live with and manage" COVID-19.
Content of the article
Carleton University and the University of Ottawa announced that they will suspend requirements that students and staff on campus must be vaccinated and wear masks starting May 1.
Content of the article
The University of Ottawa, in a statement, said the decision "may be reversed at any time in the future based on public health guidelines and expert recommendations.
"As we have seen throughout the pandemic, it is difficult to predict the evolution of the virus and the emergence of new variants."
In a posting on its website, Carleton University said that, "like other universities in Ontario," it will be suspending vaccination and masking requirements for attendance at in-person campus activities beginning July 1. may.
The decisions come as Ottawa experiences a spike in infections fueled by a highly contagious subvariant of Omicron.
On Wednesday, Medical Officer of Health Dr. Vera Etches released a statement saying levels of COVID-19 in Ottawa were "very concerning."
Content of the article
"We strongly recommend that you wear a mask indoors and get vaccinated with all the doses you are entitled to," Etches said.
Ontario dropped the requirement to wear masks in most indoor public places on March 21.
However, most universities and many colleges have decided to keep mask wearing and vaccination mandatory on campus until the end of the winter term, mid to late April.
The province does not require students and staff on campus to be vaccinated, but Ontario post-secondary institutions had required it.
The latest decisions from the University of Ottawa and Carleton are in line with Ontario's decision to end pandemic restrictions in what Chief Medical Officer of Health Dr. Kieran Moore calls a decision to "learn to live with and manage" the virus.
Mandatory masking has already been dropped in elementary and secondary schools, except for students in the Hamilton-Wentworth District School Board, where administrators voted to continue masking until April 1.
Amir Attaran, professor of law and medicine at the University of Ottawa, criticized the decision to suspend mask and vaccine mandates on May 1.
"It's a scientifically ignorant decision; cases will be very high then," he posted on Twitter.
Content of the article
In its statement, the University of Ottawa said that while masks are no longer mandatory, "we encourage everyone to do what they feel is safest for them. Please respect everyone's individual preferences.
Carleton University's student union has not taken a position on whether mandatory mask-wearing should be dropped, said Callie Ogden, its vice president of community engagement.
"We support our students no matter what," she said. "We don't really have too much of an opinion on the mask mandate. We support students if they want to wear masks.
"We will continue to offer (free) masks in our office, and, if students choose not to wear masks, we obviously support that as well."
Mandatory vaccination requirements are also suspended on May 1 at Carleton and the University of Ottawa.
Content of the article
Jhe president-elect of the University of Ottawa students' union, who begins his term the same day, says the university was making a mistake in ending terms.
Masking and vaccination work, said Armaan Singh. "We are of the view that the university should continue these essential practices which are meant to keep students and the community safe."
In January, the student union had demanded the University of Ottawa make the campus safer by requiring staff and students to receive three doses of the vaccine.
If everyone on campus had a booster, there would be fewer infections, less community transmission of Omicron, and fewer students and faculty missing classes, the union said in a statement.
Mandatory vaccination mandates require two doses of the COVID-19 vaccine, which is less effective than three doses at preventing infection, although it still provides protection against becoming sick enough to require hospitalization.
Content of the article
The student union had also asked the University of Ottawa to provide students with KF94 and KN95 masks, which offer similar protection to N95 respirators.
Algonquin College had announced it would extend mask and vaccination requirements through the end of the winter term. A college spokesperson did not immediately respond to a question Wednesday about what would happen in the spring.
La Cité College dropped its mandatory mask requirement on March 21.
McMaster, Queen's, University of Toronto, Waterloo and Wilfrid Laurier are among Ontario universities that have announced they will drop mask and vaccination mandates on May 1.
Several said the warrants could be back, however, depending on the COVID-19 situation.
"Some or all of these requirements may be reinstated on short notice if public health conditions or guidelines change," a University of Toronto message said Wednesday.
"While physical distancing and mask-wearing are no longer required, we ask everyone to respect the decisions of others regarding these measures, based on their level of comfort and health needs."