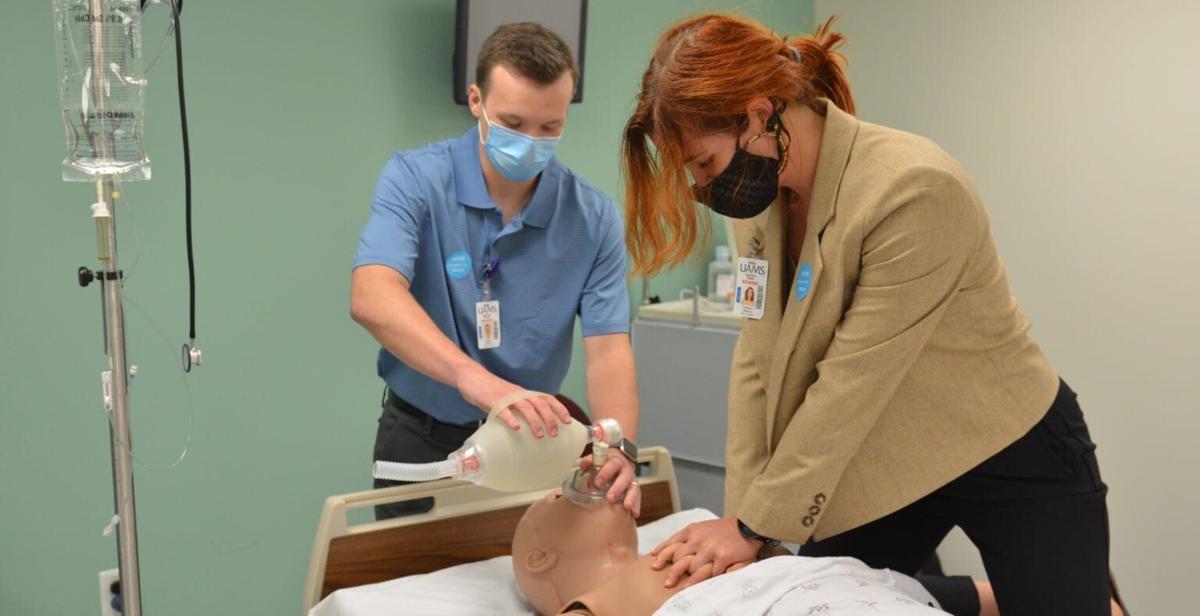 UAMS grant will train more primary care physicians | Colleges and Universities
The University of Arkansas for Medical Sciences (UAMS) received an additional federal grant of $ 4.75 million to continue efforts to improve healthcare in rural Arkansas through training and retention of primary care physicians.
The additional award from the Health Resources and Services Administration, part of the US Department of Health and Human Services, comes in the third year of a four-year scholarship for medical student training.
UAMS initially received $ 4.6 million in 2019, followed by an additional $ 2.83 million in 2020, to fund a multi-pronged approach to improve the education of medical students at UAMS under of the Arkansas Medical Education Primary Care Partnerships project.
The project aims to recruit and retain medical students from rural and underserved areas of Arkansas with the hope that they will return to practice in those areas.
It also aims to create more opportunities for students to practice primary care in these areas through service and mentoring projects; increase the number of clinical rotation sites in rural areas; provide training and development opportunities for new teachers at these sites; and strengthen partnerships with Arkansas Community Health Centers, the Arkansas Rural Health Partnership, and historically black colleges and universities – the University of Arkansas at Pine Bluff and Philander Smith College in Little Rock.
"This ongoing funding enables us to make further progress in addressing the physician shortage in Arkansas, especially in rural areas, as part of our mission to improve the health of all Arkansans," said Cam Patterson , MD, MBA, Chancellor of UAMS and CEO of UAMS Santé.
The number of doctors available per population in Arkansas is among the lowest in the country, a fact that Patterson says has been highlighted by the pandemic – particularly the delta variant that has hit Arkansas hard.
To address the physician shortage, the new funds will be used to support a new accelerated medicine program – the first and only such program in Arkansas – at the UAMS Northwest Regional Campus in Fayetteville, and to upgrade student education equipment on the main campus and clinical training sites.
"UAMS is very pleased to receive this support to launch our three-year MD program in Arkansas," said Susan Smyth, MD, Ph.D., Executive Vice Chancellor of UAMS and Dean of the College of Medicine. "The medical students who are accepted into this highly competitive program are exceptional. They are academically strong, mature, and dedicated to becoming primary care physicians to serve the Arkansans in the communities where they are needed.
The three-year course for medical students who plan to specialize in primary care (family medicine, internal medicine, obstetrics / gynecology or pediatrics) and who have the necessary degrees began in July at the Fayetteville campus.
Until this year, UAMS medical students could only complete their third and fourth years of training at the Northwest Campus. The three-year course is designed to accommodate up to 20 highly qualified medical trainees per year.
"Achieving all of the goals and objectives required to earn a medical degree in three years is extremely difficult," said Linda Worley, MD, regional associate dean of UAMS College of Medicine at Northwest Regional Campus in Fayetteville. "These dedicated medical students start their studies early and take a few breaks. Clinical training begins in the first two weeks and continues throughout the three years. Shortening the training to three years instead of four saves students a quarter of the debt burden, ultimately throwing them into clinical practice where we need them a year earlier.
"This continued grant funding is an important component in enabling UAMS to achieve its goals, and the ultimate winner will be residents of this state," said Richard H. Turnage, MD, Executive Associate Dean of UAMS College of Medicine for Clinical Affairs.
The project to improve access to health care statewide is a partnership between UAMS College of Medicine, UAMS regional campuses, UAMS Department of Family and Preventive Medicine and the Division of Diversity, Equity and Inclusion of UAMS.
The UAMS Northwest Regional Campus in Fayetteville already accommodates more than 300 students in the faculties of medicine, nursing, pharmacy and health professions. It serves Benton, Washington, Carroll, Madison, Boone and Newton counties.