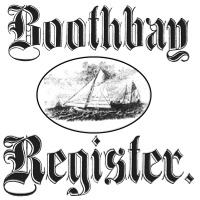 Southport Chronicle: 'Free Lasagna', World Traveler and More
Are you tired of cooking dinner and want something delicious cooked by someone else? You don't just have the Southport General Store as a solution or a restaurant downtown, you can call Sandra Seifert at 207-633-3546 to order a "free lasagna and love dinner to go." The first 75 callers will be served. You can either pick up your meal between 1 and 2 p.m. at Southport Town Hall on February 13, or have it delivered. Thanks to the Southport Island Association for organizing this way to "celebrate our community".
As tensions rise between Russia and the West, if you have any questions about this situation, besides following the news, you might want to ask Paul Zlucky. Paul, who in his professional life has worked in this area, sent me numerous articles and was even kind enough to zoom in with me in conversation to increase my understanding of the situation. If it wasn't for Covid, we could all come together to be better informed as these scary actions unfold. One can only hope that diplomacy eventually works.
Jack and Barbara Bauman walked the Y track Friday morning and again Monday, keeping a brisk stride. It's great to see Jack back exercising after a hospital stay about a month ago.
A new resident on the island since last July is Leigh Perkins who has bought a house on Dogfish Head Road near Les Baumans. She had an interesting career first as a litigator, then a specialized journalist, then as an English teacher at Brooks School, a boarding school in Massachusetts where she grew up because her parents were both in college. and where she attended high school. While teaching at Brooks, she traveled with her students to various countries to help students explore other ways of life and push them to form personal connections to help them overcome fear and mistrust of other peoples and cultures.
One connection she still maintains is with Shabana Basij Rasikh, whom she first met when Shabana was an Afghan student at Middleburg College. Ms Perkins was teaching the book 'The Kite Runner' by Khaled Hosseini, which is set in Afghanistan and wanted her students to relate with understanding to the region and culture. She asked Shabana to come talk with her class.
This week, Leigh travels to Rwanda to visit Shabana and the school she founded in 2016 for Afghan girls called SOLA, School of Leadership, Afghanistan. The school moved from Kabul to Rwanda last August when the Taliban took over their country, making education for women very risky. The 250 teachers and students from 28 provinces hope that this trip is really just one year of study abroad and that they can return to their home countries. You can hear Shabana tell her story at a TED talk accessible at https://www.ted.com/talks, or Google SOLA.
After returning home, Leigh plans to help teachers and students create real-time global experiences in the classroom through live virtual tours, where everyone comes onto the stage on one level. equality.
Last Monday's wind and rainstorm downed a large tree on Campbell Road where neighbors lost power, but CMP was quick to come in to make repairs. Driving down Cross Road mid-morning, I came to a sudden stop before hitting a small dead tree that toppled right in front of me. Later on Route 238, a large dead tree fell across the road in front of a truck that was in front of Anne Vatabedian and me. Luckily the truck driver was able to pull it off the road so we could continue, dismissing any help from me in my OSHA helmet.
News from the school pond says students and others may be able to skate on it this year, though the city won't dig it up until the time is right. The water level is down about two feet, making the pond about six feet deep at its deepest point. If Gerry can find his yellow flag, or someone can make one for him, he will hoist it on the flagpole in front of the Southport General Store indicating that the pond is safe for skating. During this time, the schoolchildren prepare skates and helmets.
Those of you who are good with numbers, the budget committee needs members. Please speak with one of the selectors if you are interested.