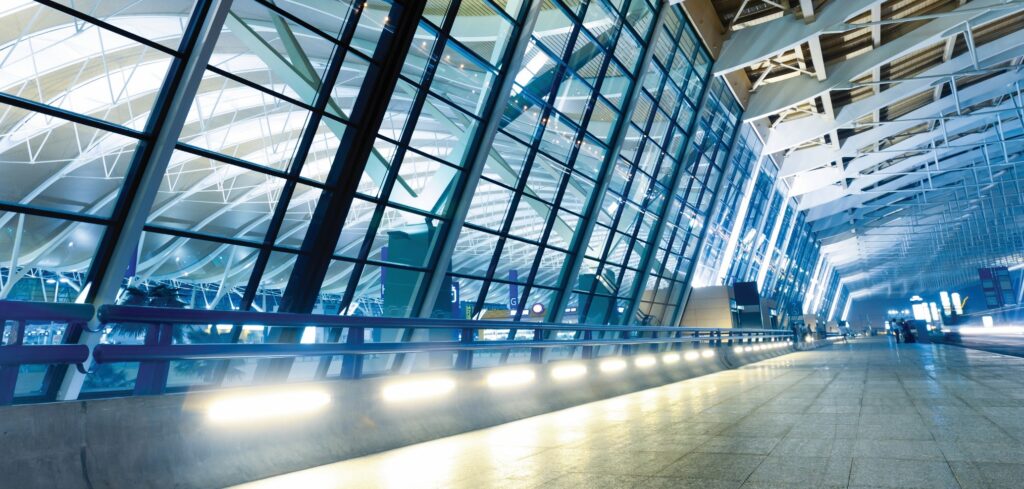 Putting technology at the forefront of airport design in the pandemic era: a win-win scenario
A technology-based approach to construction planning enables airports to improve the passenger experience while maximizing operational efficiency and minimizing costs.
At the start of 2020, the global airport infrastructure was adjusting to a record number of passengers and was preparing for an increase to 8.2 billion passengers expected in 2037. Around the world, significant investments were made in the construction of airports. to meet this challenge.
')} // ->
Then the pandemic struck. Sharp declines in passenger traffic shattered forecasts, and the resulting financial insecurity for the industry blocked many expansion plans. What is the point of discussing airport construction and the role of technology within it today?
The reality is that construction will continue, albeit at a slower pace, and technology will play a bigger role than ever. A Study 2019 by ACI found that US airports were "in the end" and in serious need of updates – updates that can withstand decades. Regional airports feel this burden even more; As travelers migrate from large cities, many regional facilities have grown which has made the need for automation all the more evident. Investment in construction continues, but with reduced resources it is clear that we need to maximize every dollar.
On top of that, the pandemic has placed crucial new requirements on airport design: ensuring that social distancing protocols are followed even in the most congested spaces, and providing passenger travel that is not only transparent but completely contactless. . Adapting to these new requirements could make or break passengers' confidence in their return to the sky.
Fortunately, bringing technology to the forefront of design and construction planning provides a solution to all of these concerns, delivering a win-win outcome: meeting passenger needs during a pandemic while allocating budget for the airport as efficiently as possible and bringing greater operational efficiency to the process.
Airports that stand the test of time
The current period of accelerated digital transformation across the industry is an opportunity for airports to take a forward-looking approach to construction. The earlier the latest technologies are factored into the airport design process, the more efficient the design will be and the less redesign will be required at later stages.
For starters, as travelers turn to mobile solutions that allow them to arrive at the airport 'ready to fly', airports can change the traditional lobby design from one of the agent-assisted counters to more. emphasis on self-service: self-labeling kiosks, self-drop-bag systems or electronic doors that offer the desired autonomy to passengers. Carpentry and raw material budgets for fixed workstations can be drastically reduced as airports instead invest in these self-service units to be distributed freely over an open and more adaptable airport space.
The budget saved on raw materials can then be redirected towards key technologies for passenger travel. Today, few US airports have adopted fully biometric passenger travel, but recent examples in the industry – such as San Francisco International Airport and United Airlines SITA Smart Path successful trial to support a low-touch experience and optimize passenger processing – show that biometrics will play a crucial role in the airport of the future. Airports currently under construction can take notes of those who are ahead of the game with proactive measures such as considering networking and connectivity requirements up front to support camera systems, IoT, Internet and food at all touch points. This consideration during the design-build phase prepares the airport's underlying foundations to be easily biometric, scalable, and change-ready before the technology is even activated.
Support operational excellence
Not only will this approach pave the way for the seamless, contactless experience passengers want, it will boost operational efficiency and help airports achieve important KPIs. The deployment of SITA Smart Path at Istanbul Airport resulted in a 30% reduction in boarding times and increased satisfaction for passengers and participating airlines. The resulting shorter aircraft turnaround times help meet carbon reduction targets, contribute to measurable and quantifiable CSR targets, and support the move towards a sustainable industry.
The benefits for airports don't end there. The more technology is integrated into every passenger touchpoint, the more opportunities there are to collect data to improve decision making and operational efficiency. Data collected at all touchpoints, from check-in to boarding, can be aggregated to create a unified view of real-time airport operational events in the form of a Dual digital. A digital twin model allows airport authorities to monitor passenger flows in real time and make informed decisions to maintain social distancing, or rely on historical data to anticipate how to manage key checkpoints on an hourly basis. very busy. During construction, airports need to think about what they want to monitor, measure and manage; what type of data they want to make available; and how to ensure that these sources are available to meet their operational needs. Doing it up front as part of the initial design is often easier and less expensive than upgrading later.
Taking technology into account from the earliest stages of the design process will accelerate the recovery of airports now and ensure their sustainability. We are here to help you.
Author: Sherry Stein, Chief Technology Officer, SITA Americas
With over 20 years of travel technology experience, Sherry is passionate about business transformation and innovation. As Head of Technology Strategy, she is responsible for ensuring that SITA's technology solutions meet the needs of airlines, airports, governments and other aviation stakeholders across the Americas.
Sherry joined SITA Lab, the company's research and development arm, in 2015, where she led co-innovation-focused programs with industry partners to assess blockchain, biometrics and digital data technologies as as tools to create a safe and transparent journey.
Prior to joining SITA, Sherry worked at Datalex for 15 years in several global leadership roles, which gave her unique experience across the operational spectrum. Most recently, she was Director of Product Delivery, leading the creation of new product offerings for customers in the airline industry.
A frequent speaker at industry events, Sherry is actively involved in industry working groups focused on the application of biometrics and the latest technologies to simplify travel processes while improving security and efficiency. passenger experience.