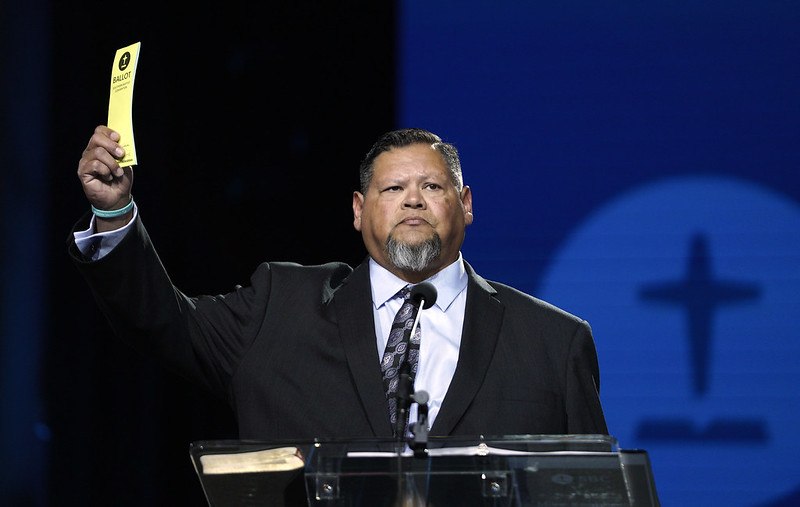 Keahbone uses Native American resolve to care for survivors of forced conversion
Above: At the SBC annual meeting in June 2022, Mike Keahbone votes for the resolution he helped draft on religious freedom and forced conversions among Native Americans. BP file photo by Adam Covington
ANADARKO (BP)—Mike Keahbone, pastor of Lawton, First, not only played a crucial role in writing a resolution denouncing the forced conversion of indigenous peoplesbut he's already started using the resolve as a way to deal with the survivors.
Keahbone, a Native American with heritage from the Comanche, Kiowa, and Cherokee tribes, served on the Southern Baptist Convention (SBC) resolutions committee this year and helped draft the resolution titled "On Religious Liberty, Forced Conversion, and Federal Indian Residential Schools Initiative. Investigation Report", which was adopted by the SBC messengers in June.
On July 9, Keahbone read the resolution from the platform during a "Road to Healing" tour sponsored by the U.S. Department of the Interior in conjunction with the Federal Indian Boarding School Initiative. Interior Secretary Deb Haaland, who attended the event, is the first Indigenous person to hold a position in the presidential cabinet.
The tour, a response to a recent press release federal report documenting the forced assimilation and conversion of Native Americans, Alaska Natives, and Native Hawaiians in the United States between 1819 and 1969, began at the Riverside Indian School in Anadarko, which media say is the oldest Okla boarding school. , opened in 1871.
Keahbone said about 75% of the boarding schools mentioned in the federal report were located in Okla. That's why he, a pastor from Oklahoma, felt led to attend the Road to Healing event, an opportunity for former victims of residential school abuse. to tell their stories in open mic time.
Stories shared at the event included that of a survivor who recalled being recorded and immediately taken to a church and forced to ask God for forgiveness for being Native American.
Keahbone said he didn't even realize any of the abuse survivors were still alive and described what he heard as "crushing but very healing".
"The most powerful thing in that moment was that I was able to stand up and share this resolution and say that Southern Baptists, the largest Protestant denomination in the country, stand with Indigenous peoples" , did he declare. "The language of resolution was so powerful in saying we oppose those things that hurt you and we stand up for the things that will help you.
"We're the first denomination I know of to recognize that relationship and say, 'We love you, we're on your side, and we're praying for you.' I could see it in people's faces, and a few people came to tell me about it after the event.
For Keahbone, the report and the stories are personal. Her great-uncle, a Comanche tribesman named Perry Noyobad, lived in one of the boarding schools and suffered abuse such as punishment for speaking his native language.
Noyobad would later use this same language as a World War II code talkerhelping the Allies to communicate messages without fear of being intercepted.
Keahbone said that when his uncle was asked why he would serve his country in this way, he would answer that he was not fighting for what America was at the time, but for what he believed that America could be.
The federal report released in may is Volume 1 of a comprehensive survey conducted by the Bureau of Indian Affairs within the Department of the Interior. Entitled "Federal Indian Boarding School Initiative Investigative Report", the report says that indigenous peoples have been specifically targeted by these forced conversion and assimilation efforts in order to systematically expel them from their native lands.
Cases of forced conversion or assimilation often took place in the form of compulsory boarding schools. Although Southern Baptists are not specifically named in the report, it is stated that many of these boarding schools were run with the help of churches of various denominations.
The report inspired the resolution Keahbone wrote with fellow pastors JT English (Arvada, Colorado, Storyline Fellowship) and Jon Nelson (Jefferson City, Mo., Soma Community).
"I read all 95 pages of the report, and my initial response was filled with anger and sadness because it began to fill in the information gaps that I had experienced all my life," Keahbone said.
"I learned that some of my family members were just treated like wild animals and just stuck in survival mode. It was rude, ugly and started to get personal.
The resolution he helped craft rejects any kind of forced conversion or assimilation of Indigenous peoples as contrary to Southern Baptist beliefs about the Great Commission, religious liberty, and soul freedom.
"I had never written a resolution in my life, and I had never even attended an SBC annual meeting in person before this year, but I really felt like it was an important thing to recognize. for us," Keahbone said.
"Bart Barber (Chair of the 2022 Resolutions Committee) read every page of the report and came back to me and said we have to do something about this. Everyone on the committee was so supportive of the resolution and agreed that it needed to be addressed. They allowed me to be the one to present it, and the response from the convention was overwhelming, awe-inspiring, and did my heart a lot of good.
Thinking about his own service to Southern Baptists, both as a pastor and as a member of the SBC executive committee, Keahbone recalls his uncle's philosophy as well as the impact that Southern Baptist ministry had on his own life.
He recalls how the Southern Baptists served him as a young boy growing up in the Comanche tribe, and explained that his first exposure to Christianity and the Church came through of Vacation Bible School in Elgin, First.
At VBS, he experienced "safety, kindness and love," he said. This evangelistic impact still motivates him as he serves Southern Baptists, both for who they are and for who they could be.
"I understand the impact of the gospel in my life, and I was introduced to this gospel through godly and amazing Christians at First Baptist Church Elgin," Keahbone said.
"They became family to me, and I became part of something and I didn't really realize it. All I knew was through those people I learned that God was real. I've just seen the Lord work too much and too often in my life to just give up on our Covenant. I just believe it's worth fighting for. In the midst of all the ugliness we see, we're always people who proclaim the Gospel and we carry the Gospel all over the world.The hand of the Lord is upon us, and he is not finished with us yet.