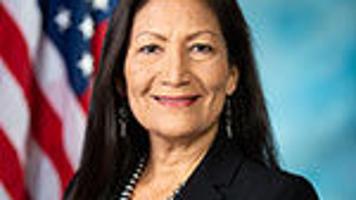 Interior to Hold Tribal Consultations on Federal Residential Schools Initiative | New
WASHINGTON – On September 30, the Home Office announced it would begin tribal consultations as the next step in the Federal Indian Residential Schools Initiative, a comprehensive review of the troubled legacy of U.S. residential school policies.
In June, Home Secretary Deb Haaland announcement the initiative directing the DOI, under the supervision of Assistant Secretary of Indian Affairs Bryan Newland, to prepare a report detailing available historical documents, with an emphasis on potential cemeteries or burial sites, regarding the federal program of boarding school for future action.
In letters to tribal chiefs on September 30, the DOI called on tribal governments, Alaska Native societies, and Hawaiian Indigenous organizations to provide commentary on key issues to be included in the DOI's report and help shape the basis for future work on the site to protect potential burial sites and other sensitive information.
"I launched the Federal Indian Residential Schools Initiative to begin the long healing process that our country must tackle in order to build a future we can all be proud of," said Haaland. "As we move forward, working with tribal nations is essential to deal with this legacy with transparency and accountability. Tribal consultations are at the heart of this long and painful process of redressing the intergenerational trauma of residential schools and shedding light on the truth in a way that honors those we have lost and those who continue to suffer trauma.
Newland said engaging the tribes is a "necessary step" as the DOI sheds light on what happened in federal residential schools and charts a "way forward".
"These conversations will not be easy, but they are essential as we are truly investigating the legacy left by these institutions," he said.
In order to facilitate discussion during the consultations, participants are requested to address the following topics:
· Appropriate protocols for handling sensitive information in existing files;
· The means to respond to cultural concerns and to process information generated from existing records or potential work activities on the site;
· The potential repatriation of human remains, including cultural concerns and compliance with the law on the protection and repatriation of Native American graves;
· Future implementation of policies and procedures to protect burial sites, sites, confidential information and culturally sensitive information;
· Management of former boarding schools sites;
· Confidentiality issues or cultural concerns to be identified within the framework of the Initiative; and
· Other issues the DOI should address in their review.
The formal consultations mark a new phase in the ongoing work of this initiative, says DOI. The ministry also says agency staff compile decades of files and records to facilitate proper review to organize documents, identify available and missing information, and ensure record systems are in place. standardized.
The DOI also states that it is building a framework for how it will partner with outside organizations to guide the next steps in the review. Additionally, leaders are working with the Indian Health Service to develop culturally appropriate support resources for those who may experience trauma as a result of the initiative. This work will result in the submission of a final written report on the investigation to Haaland by April 1.