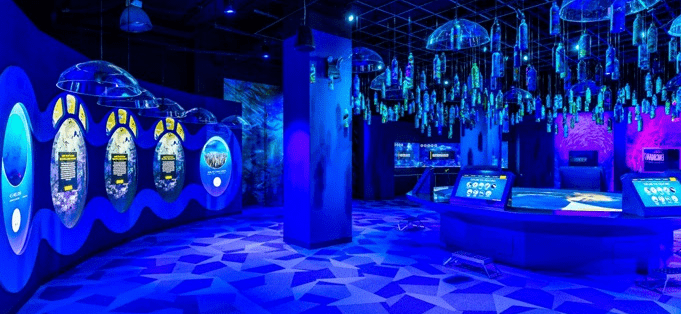 Fun excursions in Chol Hamoed for the whole family
The answer to your children's question is – yes! There are, in fact, plenty of options within short driving distances to get out and have fun during Chol Hamoed! And yes, many of them are budget-friendly, kid-friendly, and worth a look. So, have your kids check out this list and let the fun and excitement begin!
NEW YORK
Gray Line Hop-On Hop-Off Tour
Explore more than 40 top New York landmarks on this double-decker sightseeing bus that lets you hop on and off wherever you want. With an Uptown and Downtown pass, you can gain access to two major sightseeing routes for one low price. Make it a day, or hop on and off to see a few sights, the choice is yours! Book at: https://www.grayline.com/tours/new-york-city/hop-on-hop-off-new-york-city-uptown-downtown-pass-5870_70_12130_849/.
Luna Park at Coney Island
Home to the first Rollercoaster (opened in 1884), Coney Island's Luna Park has a rich history as New York's largest amusement park. With a scenic boardwalk, thrill rides, spacious park, historical landmarks and family entertainment, it's a great place for family fun. Learn more about: https://lunaparknyc.com.
National Geographic Encounter: Ocean Odyssey
Through the magic of technology, this immersive experience takes visitors on a virtual journey across the Pacific Ocean. Walk along the ocean floor, explore ocean life, encounter beautiful ocean animals and plants, and more. Visit https://www.nationalgeographic.org/education/encounter-ocean-odyssey/.
The Beast NYC Speedboat Ride
Looking for a Statue of Liberty ride with a bit more excitement than the Ferry? Then the Beast may be for you! This high-speed boat takes some exciting turns along the way – you might even get a little wet. Buy tickers on: https://www.thebeastnyc.com.
Intrepid Sea, Air and Space Museum
This fascinating museum is dedicated to exhibiting history, science and military service, in relation to its home on the aircraft carrier Intrepid. There are a myriad of exhibits that focus on different aspects of science and technology. The museum is full of real planes, submarines, a space shuttle, simulators, and even has an interactive room that kids can explore hands-on. For more information, visit: https://www.intrepidmuseum.org.
Dewitt Clinton Park
Looking for a more intimate park than Central Park? Dewitt Clinton Park is a small green space rich in history located on the West Side of Manhattan. Dewitt Clinton Park includes a playground, a dog play area, a historic flower garden, and a myriad of sports fields and courts. Visit https://www.nycgovparks.org/parks/de-witt-clinton-park.
FDNY Fire Zone
Learn about fire safety and have fun with hands-on exhibits, simulators and real fire trucks. Kids can try out real equipment, learn to crawl through a smoky room, meet a real firefighter and ride in the cab of a truck, all while learning important fire safety lessons. Learn more about: https://www.fdnysmart.org/firezone/.
Lego store
Not just your average Lego store, the one at Rockefeller Center features a Lego Mosaic Maker, Minifigure Factory, Digital Brick Lab, and many other exhibits that make the process of buying Legos fun for everyone. Learn more about https://www.lego.com/en-us/stores/store/5th-avenue?y_source=1_MjI2MjYxMDUtNzE1LWxvY2F0aW9uLndlYnNpdGU%3D.
Brooklyn Children's Museum
Open to the public since 1899, the world's first children's museum features a huge outdoor playground, special play areas for toddlers, a mini-town, a mass of tunnels to explore and even a Jurassic mini-golf course Park. Buy your tickets at: https://www.brooklynkids.org.
Prospect Park Zoo
Located next to the Brooklyn Botanical Garden, visitors can see red pandas, sea lions, and dingoes, to name a few. Besides the exotic animals, there is a petting zoo where you can feed adorable sheep or alpacas. Visit https://prospectparkzoo.com.
Brooklyn Bridge Park
With several types of playgrounds, your children will never be bored – from Slide Mountain to Sandbox Village and Swing Valley, to Water Lab, this park is a dream come true. It is an ideal place for a picnic, with many tables and a beautiful flower garden. Learn more about: https://www.brooklynbridgepark.org/places-to-see/pier-6/.
Castaway
Opened in 2016, Shipwrecked is a fully indoor entertainment complex with mini-golf, escape rooms, an arcade and a restaurant. Although there is plenty of fun for the whole family, there is an outdoor terrace, specially designed for adults. Visit https://www.shipwreckednyc.com/things-to-do.
NEW JERSEY
Sky
Sky Zone Trampoline Park in Ocean, New Jersey is the perfect place for kids and energetic adults. Come in or make reservations. The huge indoor playground is filled with trampolines, foam pits, basketball courts, climbing walls, Ninja Warrior style obstacle courses, foam jousting, ultimate dodge ball spaces and zip line.
Mini Golf Monster
It's fun for all ages at Monster Mini Golf in Eatontown, New Jersey. Families can participate in an 18-hole black light mini-golf course, a state-of-the-art video arcade and virtual reality attractions where you can immerse yourself in many adventures. Visit the website to view timely offers and take a virtual tour. Visit https://monsterminigolf.com/eatontown/.
Solve it Sherlock Escape Room
Think you can crack the code, solve the riddle, and escape the room in time? With five different rooms to choose from, ranging from Pirates of the Golden Skull moderately difficult (5/10) to The Magician's Secret very difficult (8/10). Rooms range from two to eight players and are ideal for friends, family or colleagues. Solve it Sherlock Escape Room is located in Neptune, New Jersey. To learn more about the different experiences and book a room, visit the website at: https://solveitsherlockescape.com.
just play
For families with young children, Just Play in Oakhurst, NJ, is an indoor play area designed specifically for children up to age six. Besides open play available every day of the week, Just Play offers private play date options by the hour. For more information, visit www.justplaynj.com.
Holland Ridge Farms
For a Sunday getaway through October 23, Holland Ridge Farms in Cream Ridge, New Jersey invites visitors to pick sunflowers and snap photos in their beautiful fields of sunflowers, lilies, chrysanthemums, dahlias, gladioli , etc. And discover the petting zoo. Tickets must be purchased online. Visit https://www.hollandridgefarms.com.
Monmouth County Parks
Monmouth County's park system offers facilities and activities for all seasons, including many community activities such as craft shows, and the parks are home to beaches, campgrounds, disc trails, and more. gold, off-leash dog parks, skating rinks, fishing and boating. Explore area parks online at: https://www.monmouthcountyparks.com/index.aspx.
Gateway National Recreation Area
Located on Staten Island, the Gateway National Recreational Area is the perfect place to enjoy nature's beauty. Catch the stretch of beach for swimming, biking trails, hiking trails, camping, boating, archery, fishing, and a myriad of sports fields. Also on site is Sandy Hook, the oldest continuously operating lighthouse in the United States. Check: https://www.nps.gov/gate/marking-50-years-as-a-national-recreation-area.htm
Victory Stables
Victory Stables is a beautiful horse farm in Colts Neck, New Jersey with riding lessons, trail rides, horse shows, and various boarding and rental options. Ideal for beginners and experienced riders.
Eastmont Orchards
Family-owned since 1923 in Colts Neck, New Jersey, the orchard once transported fresh fruit to nearby towns. Now he sells directly to consumers. What a pleasure to pick your own apples on a beautiful fall day! Also collect honey there. Visit the website at: http://eastmontorchards.com.
Allaire Community Farm
The Allaire Community Farm in Walls Township is a special place for special animals. The petting zoo animals are all rescues. Also discover horse riding! The low price of admission is reinvested in worthy causes like helping adults and children with special needs, supporting those with mental health issues, and supporting cancer survivors. Visit the website at: https://allairecommunityfarm.org.
Allaire State Park
Home to historic Allaire Village—a living history museum—and the Pine Creek Railroad, Allaire State Park is a wonderful opportunity to explore the past up close and personal. Complete with a blacksmith shop, bakery, general store and post office, school and various other mid-19th century staplese century life, visitors can experience history rather than just learning about it. Learn more about: https://allairevillage.org.
Miss Belmar Whale Watching
Boasting the cleanest and fastest ships, Miss Belmar offers sunset and stargazing cruises, whale watching excursions and fishing charters with excellent crews. Book a trip at: https://missbelmar.com.
This article was compiled with the kind assistance of Joy Betesh of Coupon Connection (www.couponconnectionnj.com).