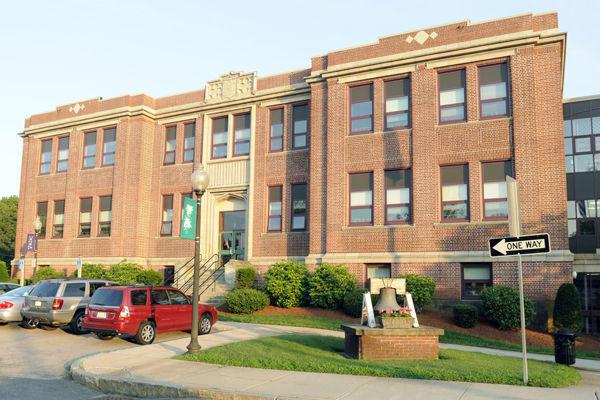 Controversy continues over plans to build private school in Mansfield | Local News
MANSFIELD – Controversy over plans for a private school to expand into a residential area continues as a measure to limit the size of these facilities was postponed at Thursday's special town hall meeting, in the great damn the neighbors.
Several dozen of the more than 200 residents who made it to the high school reunion stormed in protest, angered the planning board successfully recommended that the proposed zoning change be ignored for further consideration.
The article reportedly limited the size of educational / daycare facilities in residential areas to 2,500 square feet.
The private Hands-on Montessori School on Creedon Street is planning a building on Knight Way, which neighbors have been battling for years.
"It doesn't do what we need it to," said Diana Bren, planning board member. "We see unintended consequences. We want to create a more efficient article.
Members of the town planning council and city councilors were also concerned about legal challenges to the bylaw.
Residents pleaded for the proposal to be considered.
"We have had several weeks, several months to review this," said Joseph Mullen of Knight Way. "It must be voted on."
Another neighbor, Eric Keyes, also pushed to vote.
"It caused a lot of problems for our neighborhood," Keyes said. "It seems like a decision to delay and cause more demolition in the neighborhood."
The work approved by the town planning council, including tree leveling, has already started on the school.
Bryan Saffelle of Knight Way said he grew up in the neighborhood and never had to worry about getting hit by a car. "All the other houses have a group of young children," Saffelle said, adding that the road was only 20 feet wide.
The resident argued that the school's plans would destroy the neighborhood.
William Belknap of Central Street doesn't live in the Knight Way neighborhood, but explained that he has a daycare center which he says is just 4 feet from his backyard.
"We have lights that shine in our property," Belknap said. "I would love to see a law like this put in place.
Town moderator Kostas Loukos told voters that once a sponsor of a town meeting article requests that it be ignored, that action must take place.
A similar article was presented ahead of the town's annual meeting last spring, but was proposed by a resident and was not supported. The members of the town planning council then declared that they wanted to tackle these problems with a by-law of their own.
Another zoning change on the 23 item agenda revised the way building heights are measured.
Members of the Planning Council and Director of Planning and Development Shaun Burke explained that the main goal is to encourage creative architecture on the roofs of buildings.
Planning council members said they didn't want a lot of flat-roofed buildings downtown.
Downtown buildings can still be 45 feet tall, with five feet taller to protect HVAC systems and allow for architectural features. A special permit would be required for more height.
In other cases, voters have supported seeking state approval to allow the city to keep up to nine liquor licenses that expire on November 7.
The additional licenses were approved in 2014 for Economic Development, with an expiration date of seven years. None have been issued and the request to the state would give the city an additional seven years.
Two of the licenses are for Mansfield Crossing, four for downtown, one for the old chocolate factory and two for Erin's Center Plaza.
"The city has granted licenses, they haven't been in these particular places," said chief executive Kevin Dumas. "We are now at a point where we have an opportunity for these places."
There is interest in liquor licenses for two of the four regions, Dumas added.
There was $ 1.6 million in construction and equipment items known as approved capital items, including $ 1.2 million for the city and $ 350,000 for schools.
On the town side, items include $ 300,000 for the design of a new senior center planned in the old police station building, a $ 250,000 front loader for the DPW, $ 100,000 for a fence for the town hall parking lot, $ 150,000 for a plan for Mansfield Green Recycling Center and $ 75,000 for a plan for Memorial Park.
For schools, $ 200,000 is for fan replacement, $ 100,000 for generator replacement and $ 50,000 for lighting upgrades.
In addition, residents supported $ 75,000 for design work on new boilers and a new hot water system at the high school – a project the state has pledged to fund just over half of. total costs. The boilers are 32 years old.