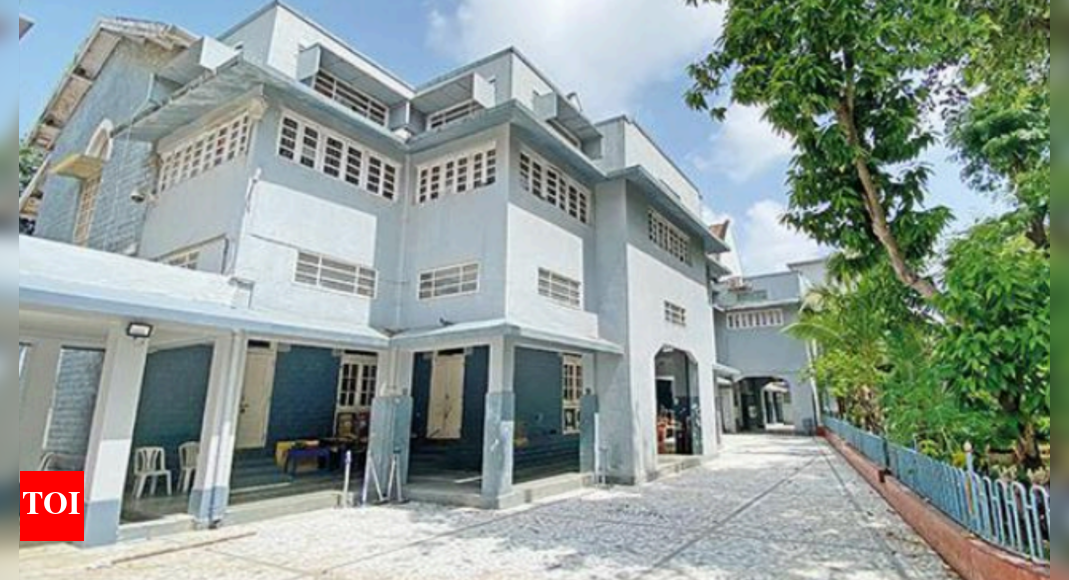 Ballrooms, bagpipes and link: Bombay Scottish turns 175 | Bombay News
MUMBAI: Almost every December in the 1870s, the dark caves of Elephanta echoed with a set of joyful Scottish sounds. A government-loaned steamer ferried a group of young "guys and gals" to its coolie-strewn pier for their annual shedding of coats, hats and inhibitions.
Soon darts would be blown through tubes for a price of two rupees, rackets would be whipped for a game of "Battledoor", low puns would be fired for laughs and a three-faced Indian deity would be imagined smiling at them. backing vocals from the ballad 'Auld Lang Syne'.
As well as plates of cold poultry, ham, bacon and cake, refreshments at the Bombay Scottish Orphanage's annual picnics included lemonade, ice water, tea and a "little drappie". something stronger for adults.
This rare snapshot of when Scottish Presbyterian soldiers migrated to India as part of the East India Company after the formation of the United Kingdom, is one of many forgotten chapters of history from the Scottish School of Bombay, soon to be restored, which is 175 years old. February 18. Few know that this elite alma mater of many elite families began life as a "Scottish Female Orphanage" in 1847. Started by Scottish Christian missionaries to educate the daughters of Scottish Presbyterian soldiers and sailors of the Indian Navy, this Byculla orphanage later merged with the 'Orphanage for the Sons of Presbyterians' which originated in 1857 to form the 'Presbyterian Male and Female Orphanage of Bombay' before becoming the 'Scottish Orphanage of Bombay in 1863.
The skimming of handwritten roll-call records dating back to 1848 has recently given goosebumps to Principal Sunita George whose mind conjures up scenes from the famous Scottish ball nights that must have taken place in the "Parlor" of the " Heritage Block" which will soon be restored. ' — the oldest of five buildings on the school's two-acre campus. "This building is its own heritage walk," says George, referring to the 144-year-old single-story Gothic Revival basalt monolith that survived every outbreak of measles and whooping cough during the years of the Great War. world War. to independence-driven bankruptcy to men sneaking around with guns asking for admissions.
The firm of architect and urban ecologist Brinda Somaya will peel off the layers of paint to restore the structure which arose in 1878 when the orphanage purchased a large piece of land along Mahim Bay. Each side of Cadell Road sprouted a curved boundary wall reminiscent of medieval Scottish castles. The orphanage's teak-floor dormitory overlooked the Arabian Sea and there was even a play area facing the sea which the BMC later converted into a public park. "Mum Don" would become the unofficial pen name of a strict "superintendent" at the orphanage after it became a
boarding school
in the early 20th century.
"Most people thought we were orphans," recalls Amelia Greene D'Souza, alias Mili, an 84-year-old former student based in Malad, who joined the boarding school in 1946, decades before the school closed. orphanage and the institution dropped the then branded word 'orphanage' from its nickname. With her dainty tubs, bloomers, tunics and table manners, the mood was Cinderella meets Snow White. G11, the number printed in indelible ink on his navy blue uniform and sheets, is not yet erased from his memory. "Our program was Junior and Senior Cambridge. And our exam papers were from the UK," recalls D'Souza, whose Anglo-Indian roots – rooted in her maiden surname "Greene" – helped secure his admission at the time. "when one had to be European or Anglo-Indian of the Church of England" to receive an education here.
From his recollections, Mr. Adam Mackay, the school's last Scottish headmaster, becomes easy to put together: wavy hair, an easily sunburned face, a long black headmaster's robe, a leather strap that does not would hit deviant boys "only under the legs", enthusiastic piper. The school driveway boasted a stretch of Phlox blossoms, thanks to the headmaster's gardening-loving wife, Lady Mackay. An immaculate dress sense and tie bound all the teachers, including his Hindi teacher, Mr. Pandit, who used to fire D'Souza for his poor command of Hindi. "I could never sing Vande Mataram," D'Souza says when directed to August 15, 1947.